Photo by VISIT FLORIDA for VISIT FLORIDA
(But it's definitely the perfect place to be in winter)
By Susan & Simon Veness
We all like the sun on holiday, right? Our annual vacation isn't the same without a healthy dose of Mr Blue Sky, and we feel hard done by if we don't return home with a decent tan to go with the trip.
It is one obvious reason why so many people flock to Florida every year, as the Sunshine State is an absolute guarantee of the kind of weather we're usually looking for, even if the peak summer months from June to September can be distinctly, um, sweaty.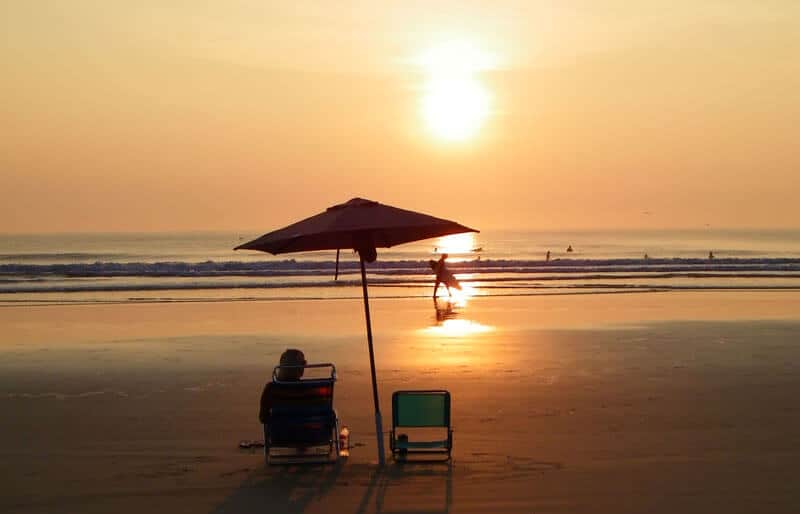 And, of course, it is exactly why Florida earned its nickname, isn't it?
Well, yes. And no. The state named La Florida by the Spanish Conquistadores in the 16th century has certainly claimed that moniker in recent times, but it was not the first to do so. And, whisper it quietly, it isn't even the sunniest state in the USA.
In fact, in strict meteorological terms, it is only the FOURTH sunniest, behind each of Arizona, New Mexico and Nevada. And it was New Mexico that originally bagged the unofficial title of 'Sunshine State' back in 1892, when the governor realized that they were the only state without an additional sobriquet to their name. They even put it on their car number plates in 1932.
Unfortunately for the 47th state, they never made it official. And, when the Citrus State (yes, that was Florida's nickname at the time) was looking for a more striking designation in 1970, they happened upon New Mexico's and decided it fitted the bill perfectly.
The state legislature in Tallahassee was smart enough to do what New Mexico's had never done, and officially adopt the name by legal resolution. So, goodbye oranges, lemons and limes, hello sunny days.
Poor New Mexico has had to make do with 'The Land of Enchantment' ever since, which is hardly a key asset, while Florida has gone from strength to strength as a major tourist destination. Coincidence? We think not.
Now, the reason for all this climatological rumination is largely because of the weather report we saw on TV today (as well as the certain knowledge that Back Home in Britain it is likely to be blowing a gale by now and Simon's parents in Hove will surely be muttering darkly about "the terrible wind" and their windows being largely opaque. We think they should just avoid cabbage for a while).
We know it has been a hot year, and that this summer has produced some of the hottest months on record, but what really startled us was this little statistic from the Spectrum News 13 weatherman:
Orlando usually has 100 days a year when the temperature is 90F/32C or above. Pretty toasty, you'd say. Well, by the end of November we'd had 133 days in that rarefied range, and many places set records in October, with Tampa and Punta Gorda both hitting 95/35.
That's a LOT of sunshine. Possibly too much, we might even venture. There are only so many times you can remind yourself not to touch the steering wheel or seatbelt straight away when getting into your car (and those are some serious burns when you forget).
But all this brings us very neatly to Florida's main asset – its winter weather. Because, now we have reached December, the high heat and humidity of the middle part of the year have given way to a blissful drop to the 72F/22C mark, with none of the mugginess that marks out the long summer months.
It is a time when we can open up the doors and windows in the morning and evening, switch off the electricity-guzzling air-conditioning, and take tea and coffee on the patio. November is the time for lunch al fresco, too, while even December can be glorious during the day, albeit you definitely need a sweater or coat as temperatures can vary by 20 degrees!
In many respects, it is why we live in Florida, and why Floridians cheerfully poke fun at all their northern neighbours for at least the next five months. The memes are many and legendary:
"The alligator saw its shadow – 12 more months of Florida!"
"Merry Christmas – remember to use sunscreen!"
"My favourite part of winter is watching it on TV from Florida!"
"It got so cold I had to wear close-toed sandals."
And there are many, many more. Of course, the "northerners" do get their own back from time to time, with a few sly digs at Floridians' penchant for shivering whenever the mercury drops below 68F/20C, but that's all fair game for a part of the world that largely exists blissfully isolated from the depredations of winter elsewhere.
Coats come out for, maybe, a few weeks a year; unheated swimming pools are off limits for a few months; we still do need sunscreen when we're out and about for more than half an hour at a time; and we discover that the jeans we last wore nearly a year ago no longer fit.
But those are all small prices to pay for enjoying the outdoor life year-round, for still wearing flip-flops in December, for being able to dip your toes in the sea without risking frostbite in February, and for enjoying margaritas at a beachfront bar any time in between.
Because that's exactly how we get the most out of our winter experience in this unique south-east corner of the US. Parts of the year are simply too hot to be out and about for long periods, but the arrival of late October changes all that, and we truly relish the change of the season.
It's also why Florida should be on your radar for a well-earned break either pre or post-Christmas. When the grim UK weather is at its worst, the Sunshine State can enthrall and enchant you with its blissful antidote, accompanied by beachfront resorts that are gorgeous throughout the year, but which often come into their own when the calendar rolls around to November.
Great coastal destinations like Clearwater Beach, St Pete Beach, Anna Maria Island, Sarasota, Fort Myers, Naples and Marco Island morph into seasonal paradises of spectacular dimensions, and there can often be some great deals to be had if you can avoid the peak periods of Christmas and New Year.
While we're singing the praises of this time of year, we can also highlight a few of our favourite resorts along the way, as the Gulf Coast in general is probably our idea of a winter idyll (albeit, the Florida Keys are also a great choice, too).
The iconic Don CeSar on St Pete Beach is perfect for long strolls on the beach under the winter sun, as is the Edgewater Beach Hotel in Naples, where the city really comes alive in the cooler months.
By the same token, the Hyatt Regency Sarasota puts you right in the heart of things for some city exploring while also having all the beach temptations nearby, and the Pink Shell Beach Resort in Fort Myers Beach is perfect for those sunset celebrations – plus the kind of seaside selfies guaranteed to annoy your friends back home!
If we do venture further south to the Keys – where it is rarely below 74F/23C even in December – there are some terrific options in Islamorada, where the chic Cheeca Lodge & Spa is an excellent choice, and Duck Key, with the secluded Hawks Cay Resort a positive bastion of expansive winter bliss thanks to its impressive array of amenities.
Possibly the ultimate winter retreat, though, can be found in Key West, where it's always time for a party and the margaritas flow freely. The Southernmost House is a truly indulgent little boutique hideaway while the luxurious Hyatt Centric Resort and Spa is possibly the perfect seasonal retreat when the weather is grim elsewhere.
There are others, of course, and this winter is likely to be a boom-time for bargains as resorts trot out a range of prices guaranteed to lure us back to this tropical winter wonderland, so be sure to sign up for America First Coast Travel's regular Newsletter, full of the latest deals.
Can't wait for the next email? Just give The Florida First Travel Company a call and speak to one of their Florida specialists (our tip – ask for Debby) on 0800 669 6409, and you will already be half-way to a memorable holiday in our favourite winter hangout.
But don't just take our word for it – come and see for yourself!
Susan & Simon Veness are the UK's leading experts on Florida, having written about it for more than 25 years and sold more than half a million copies of their books about Orlando, Disney and the Sunshine State.